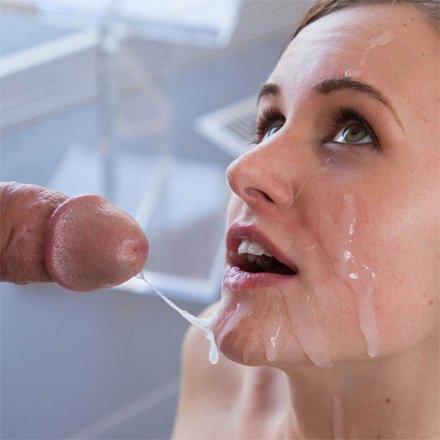 Anyone who thinks that Glamcore means softcore needs to check out this scene with Jayden from HD Love. Yup, it's sexy, it's sensual, and yes… she gets a big load of cum on her face! Nice! Check out the story:
ayden is the ideal woman. She gets up early, dressed in lingerie, to make her man breakfast. Of course, her man is always very appreciative of her efforts. On this Sunday in particular, when he entered the kitchen and found her looking sexy and at her best, he decided to get her back with some good loving. He came up behind Jayden and started kissing her neck while rubbing her pussy until she was nice and wet. Then he gave that pussy a good sucking until she came hard. Jayden knew she wanted a proper stroking, so she blew him until he was rock hard. When her man entered her it was HD love at its finest. These two had awesome chemistry that can't be faked. You just have to watch the video for yourself to see just how hot things got. It was wild!
Watch the video just to enjoy the cum facial if you like too, watching this sexy girl get her face absolutely sprayed with cum is very hot, especially considering the scene is otherwise pure glamcore. A naughty finish to a very sexy fuck!
Download the full scene in HD at HD Love – hot girls, hot action, and messy naughty finishes too!